Home Selling in Kenosha
The #1 Company for Home Selling in Kenosha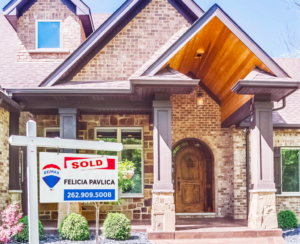 Are you considering home selling in Kenosha? Go Felicia is the realty group for you! Our team can provide you with expert guidance throughout the entire process. We have experienced members who specialize in ensuring that the home selling process in Kenosha is stress-free for you. We understand how important and emotional selling a home can be, and we are committed to making the experience as enjoyable as possible. Contact us today to get started on your home selling journey in Kenosha.
When you're interested in Home Selling in Kenosha, make sure to talk to the Go Felicia real estate team with a call and let us guide you and make the process a breeze!
We can't wait to hear from you soon and become your Kenosha connection for all of your real estate needs!
The Top Realtors for Home Selling in Kenosha
At Felicia Pavlica, we are dedicated to helping our clients throughout the entire process of home selling in Kenosha. We understand that selling a home can be a daunting and emotional experience, and that's why our team of professionals is committed to making it a stress-free and enjoyable journey for you. From determining the right price to negotiating offers, we will guide you every step of the way to ensure that you achieve the best possible outcome. Our professional realtors will be by your side the entire time to help you and your home get the offer that you deserve.
We take pride in our expertise and knowledge of the Kenosha real estate market. We will work closely with you to understand your needs and priorities, and create a tailored plan that meets your objectives. Whether you are looking to downsize, upgrade, or move to a new location, we have the resources and tools to help you achieve your goals.
At Go Felicia, we use the latest technology and marketing strategies to ensure that your home is visible to potential buyers. We will showcase your home in the best possible light, highlighting its unique features and benefits to attract qualified buyers.
Our team will also manage all aspects of the home selling process, from staging and photography to showings and negotiations, to ensure a smooth and successful transaction. Visit our website to see all of our guarantees when helping you with selling your home to get some peace of mind before the process even begins.
If you are considering home selling in Kenosha, look no further than Go Felicia. Our team of professionals is dedicated to helping you achieve your goals and making the home selling process a positive and rewarding experience. Contact us today to get started on your journey through home selling in Kenosha.
"Our job starts before the sign goes in the yard! With professional staging and photography, we have a strategic plan that we'd love to put to work for you!"
-Felicia